Convenient Bicycle Storage meets a stylish design fit for your home.
A bike shelf on top locks the cradles in place and allows you to store your keys, wallet, bike tools, water bottles, and more, so you always know right where they are. Convenient utility hooks on the bottom of each cradle take care of helmets, jackets, hydration packs and more.
Our Rackcycle has an incredibly strong triangular design that works with our Mounting System and your wall to offer 2 secure points of contact. This means that not only is our Rackcycle stylish, it can also hold some serious weight. So whether you are looking for storage for bikes or a display, the Rackcycle will make your bike an accent piece in any living, office, or retail space. If you're looking for bike storage ideas for your garage or for indoor home use beyond typical bike hangers or bike hooks, your search is over!
• See Bamboo and Birch Color Swatch for difference in appearance •
Installed Dimensions
12" (H)  X  18" (W)  X  13.5" (D)
Cradles hold Top Tube 11" from Wall.
Cradles that hold the bike are spaced 12" apart.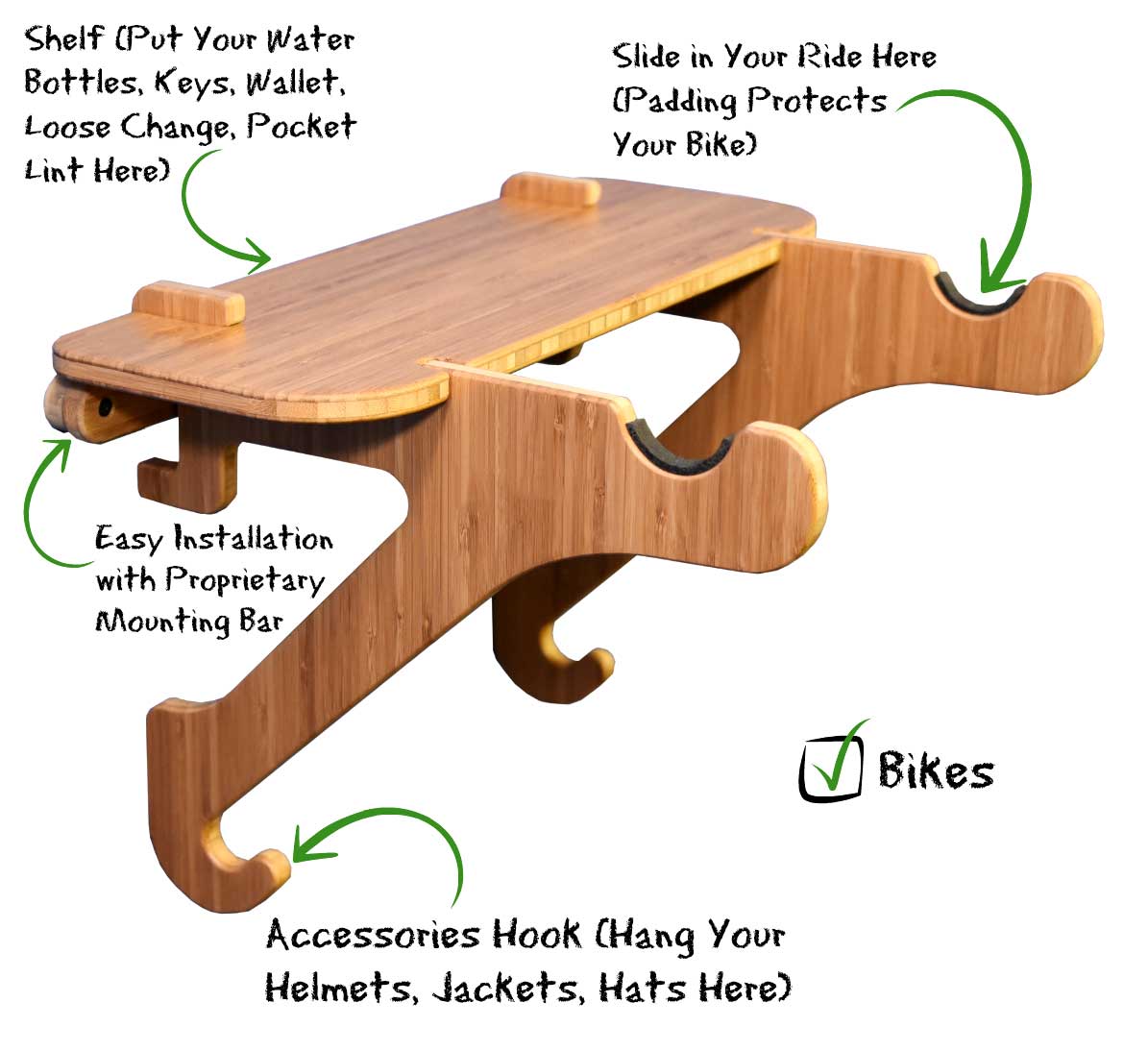 Bike Wall Mount Features
Material. Available in both bamboo & birch materials.
Style. Our bamboo has a gorgeous, intricate grain and rich color. Birch is lighter in color with a subtle wood grain. Bamboo products come finished with a non-toxic, super low VOC finish, and Birch products come sanded and unfinished (making them ideal for staining or painting, if needed). 
Strength. Crafted from incredibly strong and solid 1/2" bamboo or birch. Supports up to 75 lbs.
Easy-Installation. Grassracks' unique mounting system takes only minutes to install.
Versatile. Mounting system makes cradles interchangeable with other series.
Eco-friendly. Bamboo is one of earth's most sustainable resources.
Organized. Displays bikes in a visible and space-efficient way.
Safe. High-density padding keeps bikes safe by protecting from dings, dents, and pressure spots.
Subtly etched with our official Grassracks® logo.
Designed for indoor and garage use.
Proudly made in the USA.